Nearly a year after its release, I still find myself re-watching  "Puss in Boots: The Last Wish" and it continues to fascinate me every time.
The unexpected depth and memorable characters in this animated kid's movie about a talking cat need to be talked about more. This sequel to a Shrek universe spinoff cleverly tells a crafted tale that blends humor with an introspective exploration of topics such as morality, legacy, and relationships. 
The film follows our favorite feline hero, the charming, bold, and yet undeniably cute, Puss in Boots. Voiced with a balance of suavity and vulnerability by Antonio Banderas, the boot-wearing cat finds himself on his ninth and final life. Puss, once invincible, must now confront the vulnerability of his last life.
We join Puss, now on his final life, as he embarks on a journey to find the mythical Last Wish. This coveted prize would allow the feline hero to restore his lost lives. 
The plot unfolds with Puss traveling through treacherous landscapes and facing many challenges. His mission becomes even more complicated when he discovers he's not the only one after the Last Wish. 
The journey is a rollercoaster of twists and turns, featuring a showdown with Goldilocks and her Three Bears, a face-off against the notorious Jack Horner, and the ever-looming threat of the Big Bad Wolf. Each encounter is a puzzle piece in this intricate adventure, leading Puss through danger, unexpected alliances, and a series of eye-opening revelations.
 As the story progresses, the race for the Last Wish becomes not just a fight for survival, but a quest for redemption, identity, and the true meaning of life's wishes.
The animation style, reminiscent of a vividly painted fable, enhances the storytelling, making Puss's world a visual feast. This artistic approach underscores the film's thematic depth, as each frame breathes life into the story's underlying messages.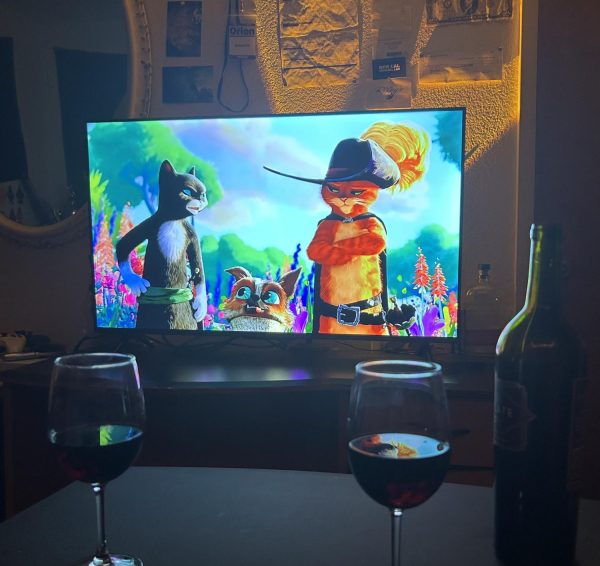 "Puss in Boots: The Last Wish" cannot be talked about without mentioning its villain, The Big Bad Wolf. Voiced by Wagner Moura, The Big Bad Wolf is one of the best antagonists I have ever seen in an animated movie, or as a matter of fact in any movie. 
More than just a big scary dog-looking thing, Wagner's character is a personification of Death itself, not just a metaphor for the relentless march of time but the clocked reaper himself. His presence is a dark overture that reminds us of the stakes at play.  
Key to the film's emotional resonance is also its exploration of relationships. Puss's interactions with characters like Kitty Softpaws, Perrito, and the Three Bears Crime Family offer insights into the importance of trust, the power of positive attitude, and the value of found family. 
These elements not only add layers to Puss's character but also mirror our own lives, where forming meaningful connections is as pivotal as material pursuits.
Puss's journey results in the realization that it's not the quantity of life, but the quality of our connections that define us. It is not about living nine lives as a badass sword-swinging legend, it's about living one life surrounded by those you love. 
Puss learns that life gains its value from the friendships that sustain us, the laughter that heals us, and the choices that shape us. This is a movie that reminds us that whether you have one life to live or nine, it's the love shared along the way that counts.
The movie is a reminder that in the rush to preserve youth and outrun time, what we need is to live deeply, laugh loudly, and love fiercely.
In "Puss in Boots: The Last Wish", we find an unlikely yet profound reflection of the modern college experience, a narrative that resonates deeply with a generation grappling with the swift passage of time and the impending responsibilities of adulthood.
At its core, "The Last Wish" is probably just a movie about a talking cat going on a little adventure and I'm probably insane for finding so much depth in a kids' animation.